Explore our business listing and discover exceptional accommodation and entertainment destination in the Greek islands and mainland. Refer a friend to e-Travels today and earn a variety of bonuses, discounts and rewards. When your friend books their first hotel or restaurant via e-Travels, you'll get discount coupons, booking discounts and other important rewards in your account for your next booking. It's as simple as that. The more friends that are approved and proceed to an online reservation with e-Travels, the more rewards you can earn.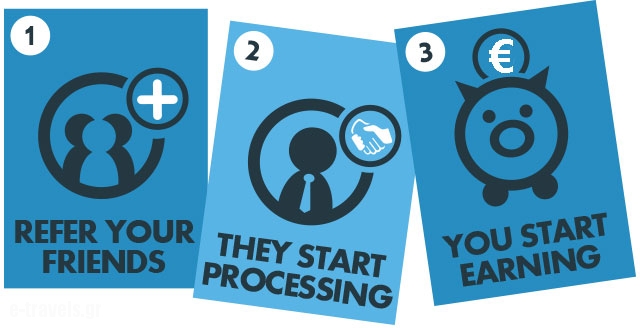 Refer your friends and earn discount coupons and awards
With our Refer a Friend Program, you get rewarded for bringing a friend or family member to e-Travels. The person you refer also gets a reward – it's a win-win situation! You'll both get significant discounts (in the form of a credit applied to your e-Travels.gr account) when a new customer referred by you accepts the referral. Referral credits can be used to pay for your monthly service, including your plan and any add-on features you choose.
How It Works
First, navigate through our small-medium sized hotels and restaurants listings in the Greek islands and mainland, make the right choice and proceed to your booking.
---
Then, spread the word! Help your friends or family members to do the same. It's super easy, too, to share our accommodation and entertainment listings via Facebook, Twitter, and email or by simply sharing the url link.
---
Third, get rewarded! Because we want to reward you for signing up and booking with us, we'll give you important discounts for your next booking. Additionally, you can earn significant discounts each time you refer a friend who signs up and book a hotel or restaurant via e-Travels. Plus, you'll become eligible for a wide range of great rewards and booking commission returns as a result of following your good advice in booking with e-Travels – the ultimate Greece Tourist Guide and Directory ! Finally,there is no limit to the number of friends you can refer. Every friend you refer, you get rewards. Unlimited.
---
What are you waiting for? Start now! Explore our listings, proceed to an online reservation and earn exclusive rewards, bonuses and discounts just for sharing a way to explore small or medium sized accommodation and gastronomic destinations in the Greek islands and mainland! We reimagined travel directory and tourist guide philosophy.